The concepts of community and audience can be difficult to separate, and this vague similarity may cause confusion for any type of business or brand, including authors. Both words describe people who are interested in you and – to an extent – what you have to offer. Some of those people may be part of your community and part of your audience.
But community and audience aren't the same thing. Let me explain.
What is 'Community' for an Author?
Your community, as an author, is your support network. It's the people whom you interact with in a two-way conversation, rather than just presenting them with content. Your community may, of course, include your readers but these will generally be individuals whom you have an ongoing dialogue with.
Your community is the group of people you can call on to help you produce, promote, and/or sell your books; even if their support is only emotional.
Members of your community may well know and interact with each other, instead of simply being aware of you.
Your community is likely to include:
friends and family
your agent, publisher, and editor
other authors, especially those signed up with the same publisher as you and/or in the same genre
readers who have become your cheerleaders
What is 'Audience' for an Author?
Your audience is made up of the people who read your books, blog articles, and social media posts; the same people that all of your content is targeted at. Generally, your audience will be made up of your current or potential readers. I say 'generally' because certain non-fiction books will be written to bring customers to the accompanying business. For instance, you may work as a virtual assistant (VA) and write a book on how to stop being a micro-manager and develop a delegation mindset instead.
Your audience may never interact with each other. To a large extent, in fact, they will be unaware of the other audience members. Many will not have a dialogue with you either, even though they may like your posts, read your blog articles, and buy your books.
Why does it matter?
Look at it this way. Community is a circle that you stand within. Audience is a circle that you stand outside, but you talk to the people inside it. Those two circles may overlap, but your position in relation to them will not change.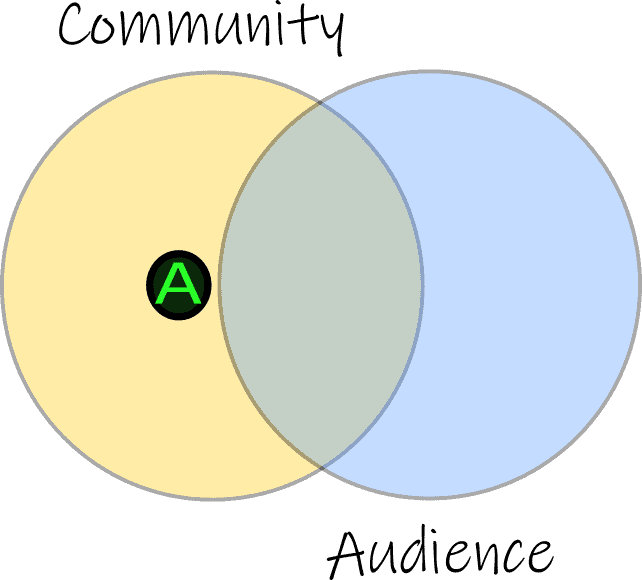 Your content should target your audience, for instance, if you want to build a following of engaged readers who will buy your books, leave positive reviews, and spread the word about your writing, then your blog and social media posts must be of value and interest to them.
When you know the difference between your 'community' and your 'audience', you can focus your content on who you are writing for, whether that content is:
your books
blog articles
social media posts
sign-up freebies
the wording on your website
promotional material
Nurture relationships with your community – they are your team, after all – but when you write, do so with your audience in mind.
*
If you'd like to receive more information on content and social media for authors, why not sign up to Fi's Content Catch-Up? In return, you'll receive '3 questions to ask before you create that content' and my newsletter will drop into your inbox at the end of each month. Use the sign-up form on the right of this page.
If you'd like to share this blog post: