Using a logo offers a certain professionalism to any business website or materials. It channels a business' personality, builds  familiarity and trust, and hopefully makes you stand out from others in your industry.
People remember you and your business when they see your logo, so isn't it the obvious thing to create a logo that you're proud of?
When it came to picking my logo, I wanted something that reflected my personality – creative, straightforward, friendly.
The 'creative' element came with my choice of colour. Orange is traditionally connected with creativity. It's 'friendly' too.
The two fonts I used, the white FP and the black full name, reflect two parts of my personality trio too. The white handwriting-style font is relaxed and approachable (friendly) whereas the black writing is plain and easily legible – my 'straightforward' element.
Seeing as my logo will appear in all kind of places and not just my website where it's obvious what I do (you only have to look at the website address – fiphillipscopywriter – to get an inkling that, yeah, she probably does some copywriting), I wanted it to be clear what services I offered.
I didn't want to leave anyone who saw my logo in any doubt what I did for a living so I added the words beneath my name,
Content – Copy Writing – Social Media
with a dot in between each phrase in the same shade of orange as the circle that the white FP sits on.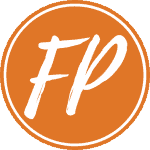 One of the reasons that I wanted the orange circle with white writing was so I could create a button from it, still recognisable even when separate from the entire logo, for site icons and on other materials.
I also produced a version of the entire logo and the button in a shade of grey for times when colour might be distracting or not possible.
Finally, I put together a style sheet of all the colours and fonts in my logo so that I can use them for future marketing materials and to match against any images I may use.
I like my logo. It feels like me, and even if I do say so myself, I'm proud to present it to the world.
If you'd like to share this blog post: